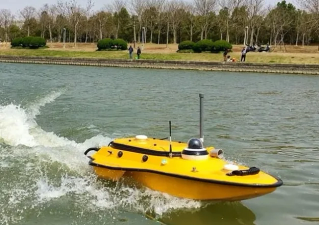 C.R. Kennedy has secured the exclusive distribution rights for the CHCNAV Apache 3 Pro USV marine drone. The Apache 3 Pro features advanced navigation, on board camera, on board RTK GPS with IMU sensor, collision avoidance software and robust design.
The integration of GNSS and IMU sensors provides accurate positioning during temporary GNSS outages, such as passing under bridges, while the Apache 3 Pro's autonomous operation mode enables users to program route and mission parameters to execute defined tasks.
The USV is suitable for purposes such as conducting bathymetric surveys, marine habitat monitoring and underwater infrastructure inspection. Additionally, it can be equipped with CHCNAV's water assessment sensor, used to measure parameters such as PH, temperature, conductivity, dissolved oxygen and others.
To read the full article visit Spatial Source.