Reality capture specialist Andrew Stugnell from Another Perspective Pty Ltd joined C.R Kennedy to attend Hexagon's HxGN LIVE 2019 in Las Vegas, Nevada. With permission (and some redaction), we publish some of the highlights and antics from this amazing event.
Leaving Melbourne soon...... hashtag#leica hashtag#crkennedy
Leg 1 underway on our way to hxgn live 2019 in Las Vegas
A sky & clouds you could laser scan hashtag#leica hashtag#crkennedy
Just heading out to the Grand Canyon for the afternoon
-------------
HxGN Live 2019 Day 1 commonly known as the day after the night before.
HXGN Live 2019 opening keynote address
But firstly a quick mention on the night before. Monday evening started with a get together of Australian / New Zealand conference attendees at Bouchon. Outside on the pool patio with misting fans, drinks and nibbles. Meeting new people in the industry and ...
Remember the rules what goes on in Vegas stays in Vegas so that's where that ends. More to follow.... hashtag#leica hashtag#conference hashtag#vegas hashtag#crkennedy
Tuesday started with the painful reminder of to much (redacted) but that improved as the day went on.
Four training sessions throughout the day on Cyclone Register 360, scanning control, UCS reaction and aligning point clouds in revit / cyclone. Finally an interesting discussion on floor flatness surveys including an insight into the future of 3DReshaper and some new tools to prepare floor flatness reports in the field in literally minutes.
Ola Rollens conference opening keynote address titled "Your data can save the world; And why it matters to your business" exploded onto the stage at 5.30pm with a distinct message to the 3500 or so attendees packed in to listen. Have a hunt around to find a recording to have a look. Finally "the zone" opened with pretty much all 3500 attendees walking into the highly anticipated tech area. Beers, food and equipment... what more could you want..... To be continued............ hashtag#revit hashtag#conference hashtag#vegas hashtag#crkennedy
Andrew Strugnell Got my hands on some of the new tech.... hashtag#leica hashtag#vegas hashtag#conference hashtag#crkennedy
-------------
Day 2 - No ill effects from the night before this morning (not trying hard enough some would say).
Today's sessions started with user experiences with the RTC360, discussions on the scanning of 1890 homes per week in the Netherlands (that's a lot of scanning in anyone's language).
Then the session everyone waits for, keynote address from Juergen Dold, wrapping up with the release of two new scanning products. The BLK247 real time scanner / camera system aimed at the security / manufacturing industries and; The BLK2GO Hand held scanner, capable of 700k points per second as you walk around with it (no setups).
To be continued..... hashtag#leica hashtag#conference hashtag#vegas hashtag#rtc360 hashtag#crkennedy
Obviously the lunch break saw plenty of discussion on the new scanners, even getting to hold one. No release date yet and by all accounts you will need to be sitting down when you get told the price!
The evening saw the GEO stream out from nibbles and drinks, however Christine and I had dinner with old friends from Queensland who just happened to be in LasVegas at the same time. From the phone call I received just now there may be others nursing dusty heads in the morning.
Same time same place tomorrow peoples..... hashtag#leica hashtag#crkennedy hashtag#BLK2GO hashtag#BLK247
John Sharpley (L) from Absolute Surveying Pty Ltd and Andrew STRUGNEL(R) from Another Perspective check out the hashtag#RTC360 with clear side covers at hashtag#HxGN. One already has an RTC360 (and loves it) and the other would dearly like to have
-------------
Day 3 - I know day 3 was yesterday but I have a good excuse.
Last night we (redacted) uh uh remember the rule.
The mornings keynote address from Burkhard Boeckem "Embrace Reality: The BLK story accelerates" provided several user stories using the BLK360 including LucasArts & Industrial Light and Magic which demonstrated that it's not all surveying, corner pegs and resections. The range of applications is truly amazing.
An afternoon session with Gilles Monnier demonstrating the soon to be released version of Cyclone 3DR (formerly 3DReshaper) highlighted we are only using a small part of the functionality in 3DReshaper. Can't wait to get back to dig a bit deeper.
The last session with James Carracher and Andrew Stewart from JACOBS provided a great insight into how to combine data from survey grade P series scanners and the RTC360, including some of the pitfalls they came across in the New Zealand project. Great job guys.
It highlighted that we are on the right track when wanting our scan data on datum. The HDS crew then got together for a couple of beers and further discussions about what we do. The evening event for the whole crowd at HxGN Live was held at the multilevel Tao nightclub with the roof top bar / pool area being the most popular ...
... what happened after this will remain a secret between those that were there. Let me just say wow (read why did we do that?)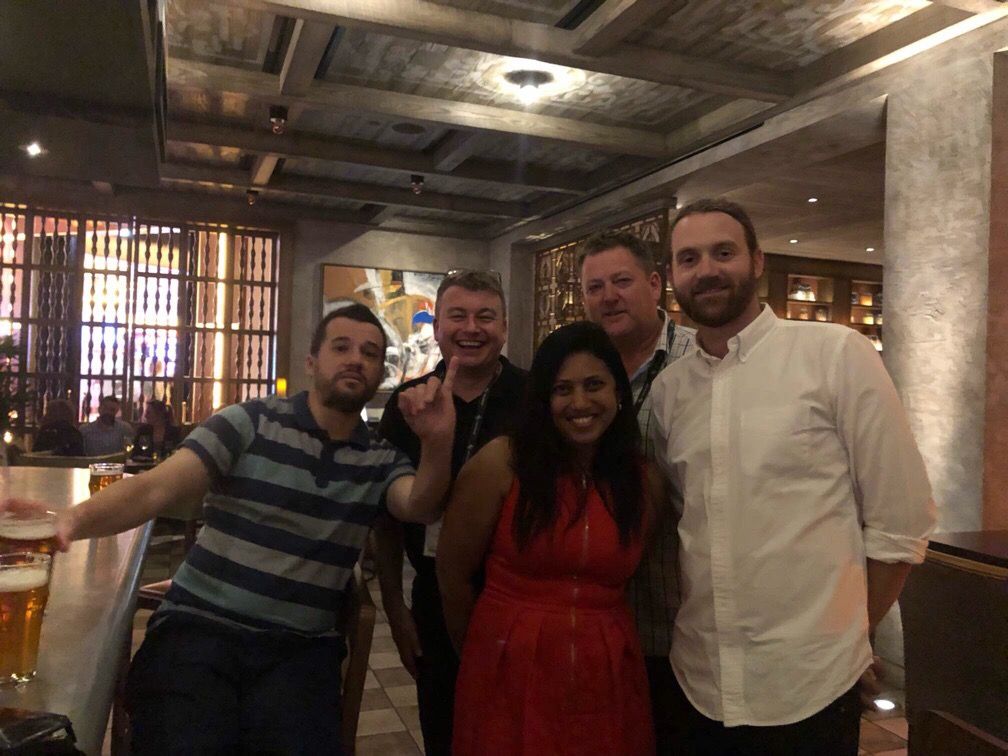 Front left - John Sharpley (Absolute Surveys Melbourne), Front centre - Allison kealy (RMIT Melbourne )
Front right - ANDREW (ANDY) STEWART (Jacobs Melbourne)
-------------
Day 4 - Well this is it, the final day.
A quieter day, with less people around early (including myself). Perhaps it was last night party. Perhaps people were busy checking out of their rooms, or maybe both.
Either way i managed to see the final session of the conference "Circular Quay Renewal Investigation - BIM & digital engineering" delivered by Nathan Milligan. A thorough description on how they went about surveying and scanning everything in the quay and pricing a wide range of electronic deliverables. Their processes included setting up a p40 scanner on a bracket attached to the piles under the five ferry terminal wharves. This had to be conducted at low tide and whilst the ferry's were running.
Great job. Well that's it everyone, time for a bit of rest and relaxation for a few days before flying home.
Thanks to Nick Pawley (CR Kennedy) for the invitation to attend.
Thanks to the new acquaintances I have made for an enjoyable time and sharing your work stories. (Too many to name you all)
Keep in touch people and safe travels home.
hashtag#HxGNLIVE2019 hashtag#leica hashtag#vegas hashtag#conference hashtag#crkennedy
-------------
Bonus Day.
What to do when your flight home has been cancelled. hashtag#beerbythepool