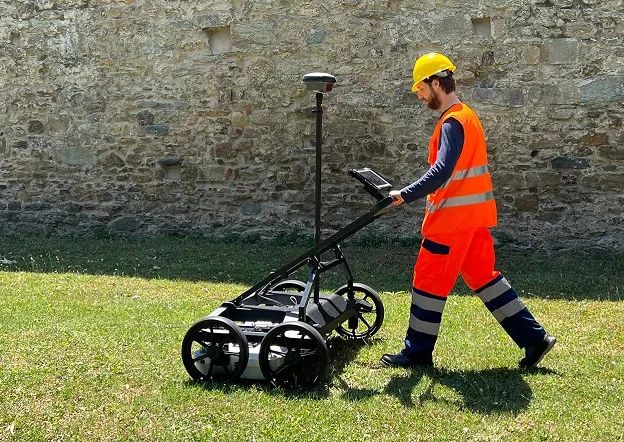 The Stream DP ground-penetrating radar from Italian firm IDS GeoRadar, distributed in Australia by C.R. Kennedy.
The field of sub-surface locating is undergoing something of a revolution, with newer-generation ground penetrating radars (GPR) enabling faster, more efficient work and better, highly accurate data outputs.
One of those GPRs is the Stream DP from Italian firm IDS GeoRadar, distributed in Australia by C.R. Kennedy. The unit, about the size of a lawnmower, is gaining traction among the locating community as well as the traditional surveying sector.
IDS GeoRadar's Stream DP's large multi-channel array — 30 channels in double polarisation; 19VV plus 11HH — enables accurate 3D detection of underground utility networks, other assets and voids in a single scan. It features Equalized scrambled Technology, or EsT, which enables it to exploit the entire radiating performance of the antenna for full control of the GPR signal, whilst at the same time performing noise rejection and capturing both lower and higher frequencies for extended depth range and an ultra-high resolution. For positioning accuracy, it has an integrated encoder and PPS and a user-fitted external GPS and TPS.
Designed for easy transportation, the Stream DP's light weight (maximum 20 kg per part) and compact size means that it can fit inside a standard vehicle and be assembled and deployed by a single person. It's designed to handle a variety of scenarios from asphalt (with pivoting wheels) to rugged ground (terrain wheels) and has a scan swath width of 83 cm.
"It's pretty awesome," says Philip Byrne, C.R. Kennedy's National Sales Manager, GIS and Detection, Survey Division. "A lot of survey companies are getting into utility detection — they see the benefit. And Stream DP is just so far ahead of the other systems in the market."
"GPR generally is quite complex to read," he adds. "But with 3D GPR, because you're getting more data, you can form a tomographic view — it just makes your data a lot more visible and easier to decipher."
The view down under
Surveying and spatial solutions firm MNG, which has offices in Victoria and Western Australia, has been putting the Stream DP to good use. One such application has been for the City of Gosnells in Perth, which was facing erosion in areas of stormwater pipe joins due to an absence of rubber seals during initial installation. Heavy rainfall caused significant amounts of soil to enter the pipes, leading to the formation of sinkholes near high traffic areas such as road roundabouts. For public safety reasons, it was important to accurately map these void areas.
MNG proposed the use of Stream DP, not only for the accurate result it would provide, but also to cut down on the disruption to road traffic. MNG Locate technicians, with the assistance of MNG SubSpatial, conducted Stream DP capture over three separate sites, including a 120-metre section of road and verge. The work was completed in less than three hours.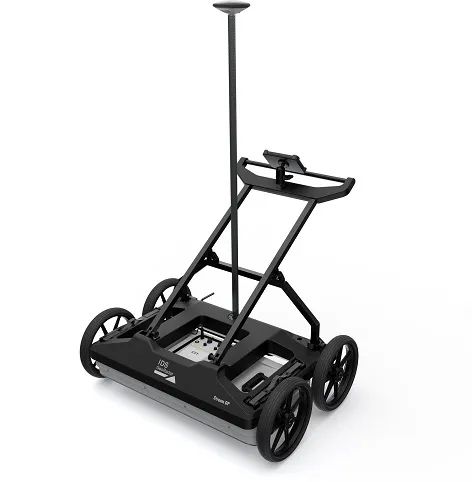 "Its multi-antenna, multi-array means you're basically capturing almost a subsurface scan," said Adam Neale, Project Manager, Locate & Engineering, MNG. "Here in Perth, ground conditions are pretty favourable — we're getting a lot higher penetration than we would otherwise. And when you're running a scan, it really minimises that risk of not spotting an asset or running along the length of an asset — which normally makes it almost invisible — because you have antennas at different orientations. It increases your ability to find assets and identify them, and it has really good accuracy as well."
"Back in the day we'd get our locate team out in the field to put spray marks on the ground and then a surveyor would come along and survey it all. With Stream DP, you add on a GPS and it's referenced spatially as you go, which makes it far more efficient."
Adam says the company used to have another GPR unit that had the ability for the GPS to hook on to it, but it had severe limitations such as connectivity issues. "It never really worked too well and ended up kind of collecting dust in the corner," he said. "And prior to that we just had standard single-antenna GPRs. The Stream DP is the first multi-channel, multi-antenna unit that we've had."
The next step
"It's really taking that next step," says Tavis Lavell, Manager, MNG SubSpatial. "Where the Stream DP stands out against the rest is if you're in, say, tough conditions like a road. If you need to shut down a road, the Stream DP is 19 times quicker; you're on the road a shorter amount of time. You can just capture the data, and because it's linked with a GPS, all that information is geo-referenced and located. You can get in and get out a lot quicker and produce drawings."
But it's not just roads and utilities for which the Stream DP is suited.
"We had a job recently in Melbourne at one of the old schools. During World War Two, it was used as a practice facility for digging trenches, which were then backfilled and now it's just an oval. Using the Stream DP you can really map the trenches," said Tavis.
"It's even good for geology such as horizontal directional drilling. We've been using a Stream DP along an alignment to locate any large boulders or any type of geology which may inhibit the drilling that's about to take place."
"MNG has always had that ethos to utilise cutting-edge technology to capture spatial data for our clients' needs."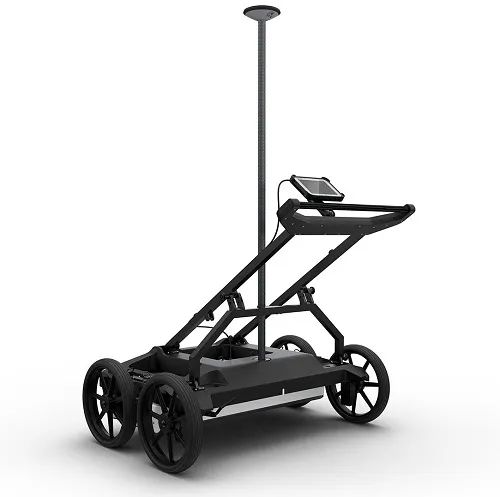 Digging for data
Data collection and post-processing are handled by the uMap and IQMaps software, respectively. The former has an easy-to-use interface suitable for unskilled operators, while the latter enables advanced analysis of the GPR data.
"IQ Maps is where you decipher the data and pick points, and then you export that data straight into software packages such as 12D. The data imports to these packages seamlessly as a 3D model while retaining all attributes from IQ maps," says Philip.
"Previous systems 10 years or so ago were very clunky and you'd spend a lot of time in the processing," adds Tavis. "But IQ Maps is very user friendly and does a lot of the pre-processing for you."
Overall, Adam says the Stream DP is enabling MNG to offer services that they couldn't do before. "It's almost like a new product that we can offer to LGAs, and they're quite keen to see this sort of thing," he said. "I've been locating with MNG for a couple of years, and even in that period, just the sheer requests that we get now from engineers — usually they'd ask for a feature survey; now they'll ask for feature survey and utilities location as well. It is becoming more and more prevalent."
In summing up the advantages of the Stream DP, Adam says that "It's extremely beneficial for what we do. I couldn't imagine operating without it."
For more information about the Stream DP, contact C.R. Kennedy: survey.crkennedy.com.au
To read the full article visit Spatial Source