For many years, utility locating has been considered in Australia as a low-skilled task which required little training. The field was largely unregulated. Works were done with a combination of careful digging, limited utility plans and occasional utility locating where it could be kept within the confines of the budget. The traditional Australian attitude of "She'll be right!" was in full force.
In contrast to this compliance-based approach, Earth Radar has engaged Staking U to develop a rigorous and extensive training program for locators. While there is no external structure for locator training, this model can effectively deliver the skillset required of utility locators before they start working solo. A reasonable timeframe for locators to spend developing their skills is 6-12 months – and yet we work in an industry where a short course is deemed sufficient.
While implementation of a certification program for locators is a generally positive step, the lack of change across the industry is troubling – our desire for compliance leads us down a path of enforced mediocrity, as companies strive only to acquire that minimum level of ability.
Phase 1: Recruitment
A typical training program starts from the moment the new team member is recruited. For the first two weeks, the trainee will go through various inductions ranging from the internal safety induction to any processes required for various sites they are likely to attend. They will spend time working with experienced locators on small and large jobs, and as an assistant on vacuum excavation units. This gives an introduction to the underground utility world, and a very basic understanding of the context of their position in the industry.
Phase 2: Training
In addition to RIICCM202D, trainees take on Staking U's Utility Locator Training Program, which includes three days of intensive EM and GPR training. This provides extra depth of technical knowledge which is then put into practice immediately in the field through a mentorship system. Senior Earth Radar locators work to ensure that the trainee understands what they have learned through the courses, and the trainee is gradually upskilled to increase their autonomy from performing basic locate tasks to being able to work in more complex areas.
Phase 3: Field Experience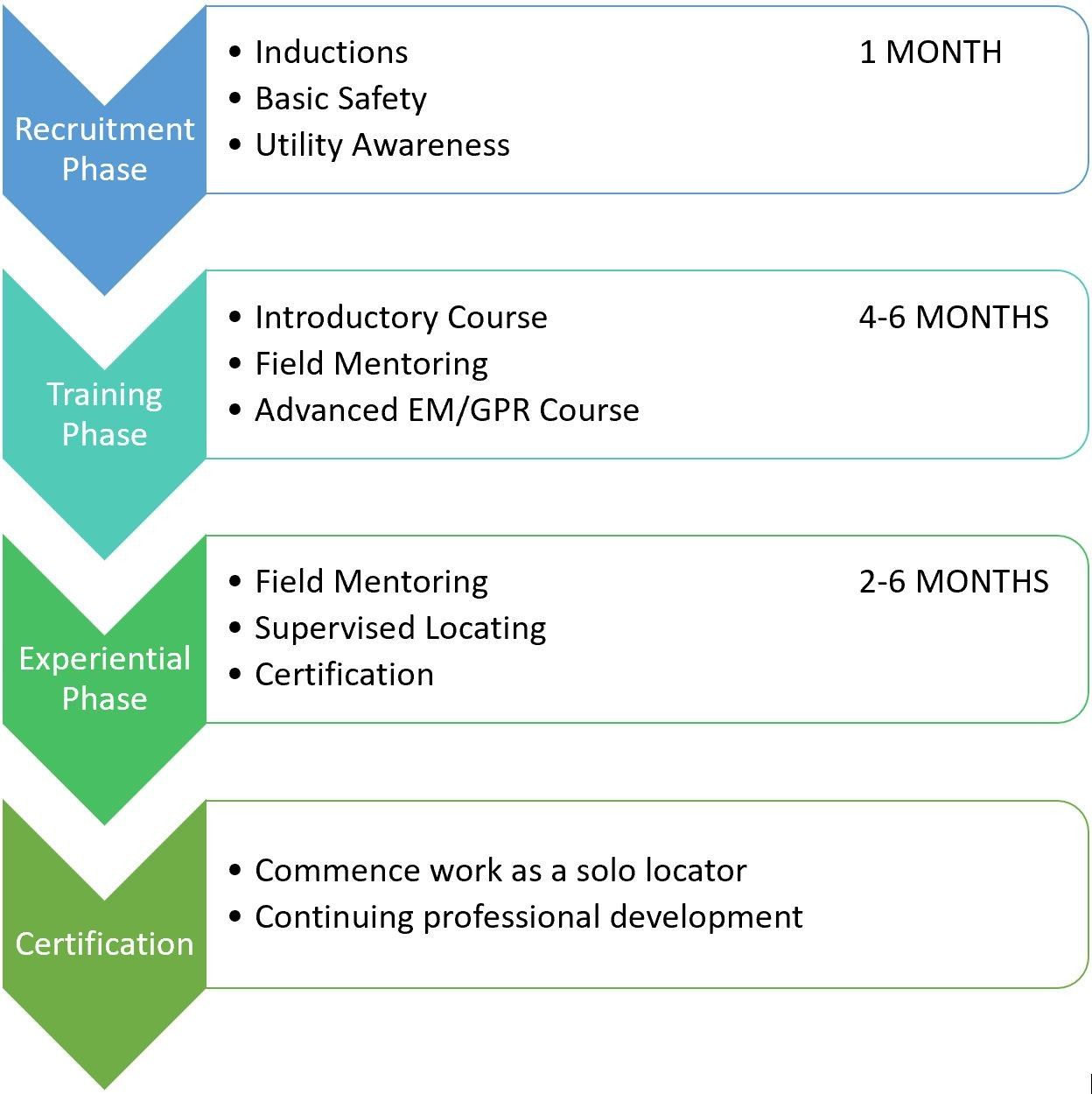 Originally Published by
Simon Ankor
Senior Trainer at Staking U Asia-Pacific
#utilities #infrastructure #training #utilitylocating #utilitymapping #survey