INDUSTRY PRO
Australian Earth Moving Magazine July/August Issue. Page 14-21
Photography By: Trent Perrett Photography trentperrett.com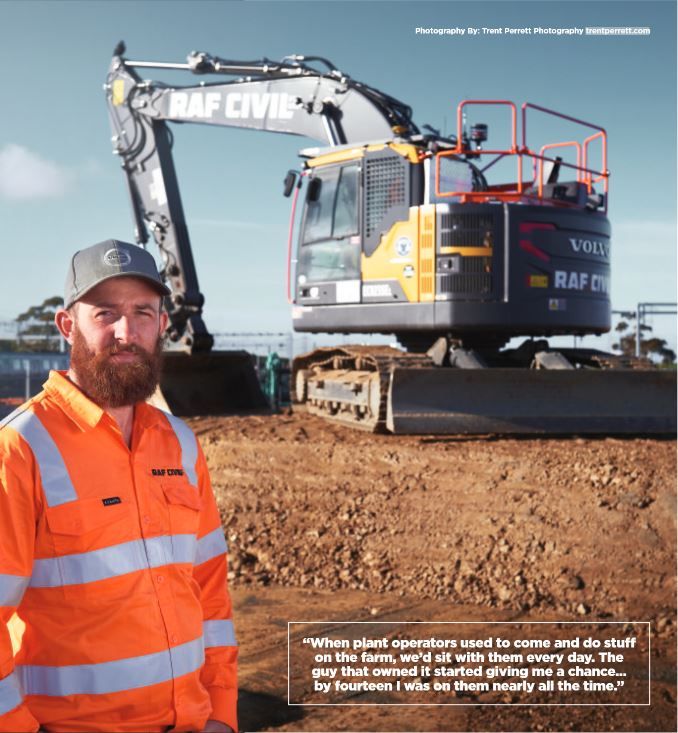 Irish expat and owner of RAF Civil, Adrian Forde, only popped in for a visit, but has ended up putting down some serious roots in Australian soil.
"I came to Australia in 2008 – to Melbourne in 2009," he recalls. "I came over for travelling and one thing led to another. I was only meant to come over for twelve months… I'm still here twelve years later."
Growing up on his family's farm in the beautiful Irish countryside, Adrian knew his way around a cab from an early age. "I started driving diggers when I was about twelve," he recalls. "When plant operators used to come and do stuff on the farm, I'd sit with them every day. The guy that owned it started giving me a chance… by fourteen I was on them nearly all the time."
It made sense, then, to carve out a career in earthmoving, once the move down under was official. "It's all I've done since," Adrian laughs. "I started off in subdivisions and moved onto rail and road projects."
Adrian spent a decade working within established businesses, before striking out on his own. "I use to work for the big companies, like John Holland…. and yeah, I saw a little bit of an opening and I decided to do my own thing."
Doing his "own thing" was a pivotal moment in Adrian's career; he and his almost wife, Rhiannon, started RAF Civil in March 2018. "We took a chance in buying the first digger and we've six of them now, so we're just trying hard to keep it going."
Growing this quickly wasn't always part of the plan. "The original idea was one person, one machine and no headaches," laughs Adrian. As is so often the case, life (and his customers) had other things in mind. "The clients just kept asking for more!"
Now with 8 operators on the books, Adrian reveals it was finding the right team that gave him the confidence to take RAF Civil beyond his original solo mission. "I've got some good guys working for me that don't take much looking after," he says. "Once I had good people around me… that was the main key, of course, to getting bigger; having good operators and good pipe layers with us – so you can get the job done."
And what about that all-important first machine? "It was a Volvo ECR88. My plan was to be the first one working on a Volvo with GPS on a swing boom," Adrian reveals. "It's a very compact, small machine, so you've got the ability to dig close to walls, with zero radius. There's not too many other diggers with 3D GPS on that size machine, so there came an opening for us there."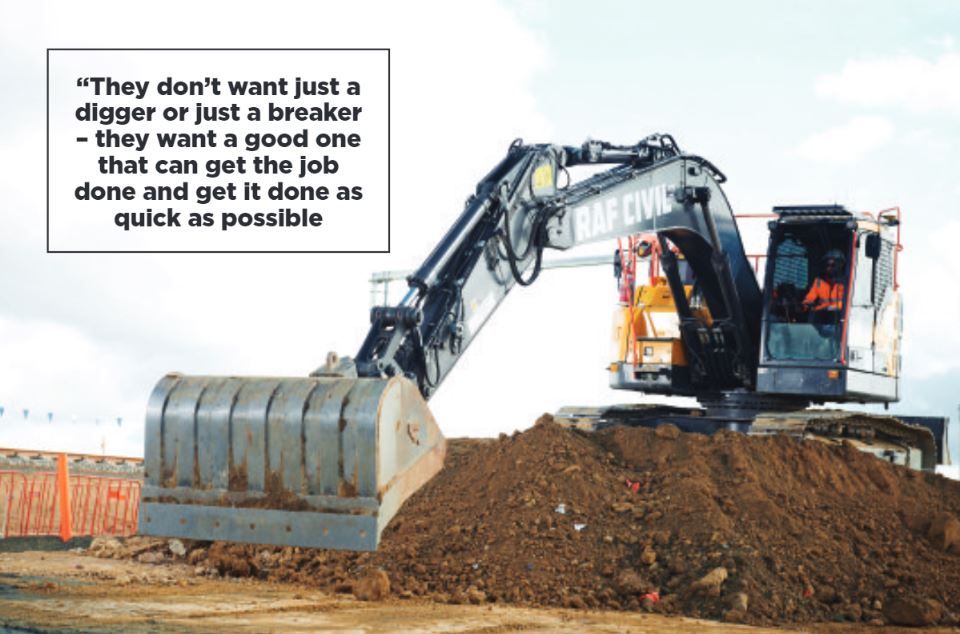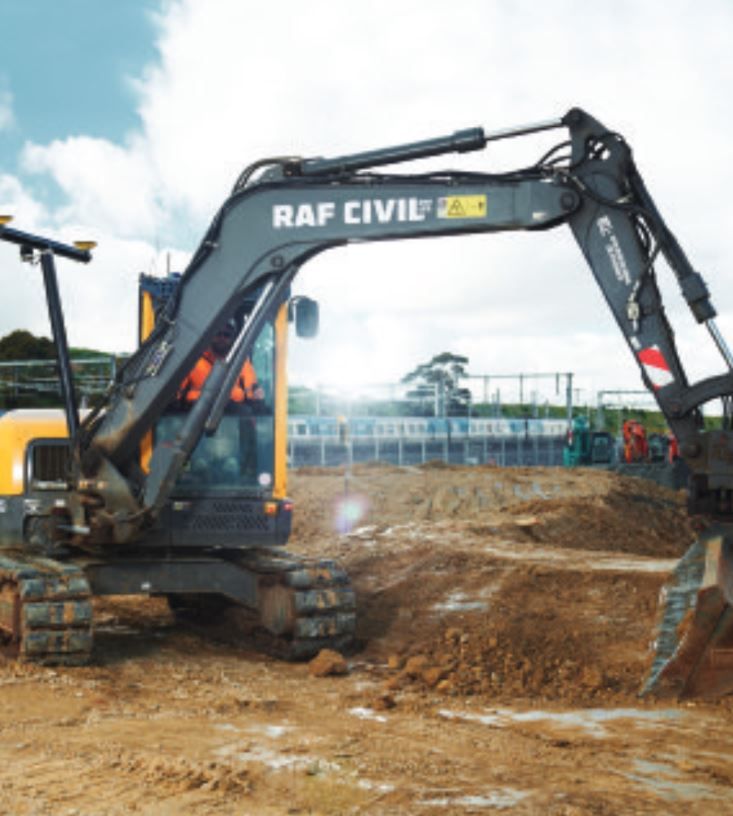 It was partly familiarity that led Adrian to choose Volvo. "We used them back home," he explains. "They're a reliable machine and the 88s are very compact compared to other models of digger. And I figured out I had enough space to run GPS on them. I had a good relationship with Volvo and that's why I kind of stuck with them."
Initially dealing with Brian Lawson at CJD Equipment, Noel Fernando is now his main contact at the company. Adrian reveals that he couldn't be happier with the service. "Noel's a legend to deal with – he couldn't help you out more when it comes to anything you need or want. I can ring him any time and just pile him full of questions and he'll go get answers for me."
Adrian is also very happy with the post-purchase support. "Noel doesn't run off after a sale; he hangs around and he talks to you – rings me to make sure everything's going good." It hasn't taken too long for the machines to start lining up in the yard. "I was hiring machines for about nine months before I bought the second one. The third one came more or less straight after that. We've got five Volvos now and one Komatsu."
Adrian's Volvo fleet includes an ECR58D, two ECR88Ds, an ECR145C and an ECR235E. Purchasing the 235 – a 25 tonner – was a big step up, but a necessary one. "We just saw a demand for bigger gear, especially doing drainage, deeper trenching and stuff like that – but still trying to keep within a reduced radius,"
Adrian explains. "It was the next step to keep moving the business forward… and keeping the customers happy, which is the main thing" GPS has been fitted to all models from the 88s upwards, but this was no mean feat. "Most people that have the GPS have 13 tonners onwards," explains Adrian. "The swing boom was a very hard machine to get the GPS, because of the way they're designed.
You have to have the GPS antennas mounted on the swing boom and not on the back of the machine. The Leica system was the only one who could give system accuracy in all swing positions C R Kennedy were the only company up to the challenge. "They're the only ones that'll attach the antennas to an engineered bracket on swing boom machines," explains Adrian. "They've done it on the Komatsu,Yanmar and Kobelco machines previously. They were very keen to do a different model digger. It took a lot of research and a lot of measuring up and stuff to do it."
Adrian has been very impressed with CR Kennedy's service and the Leica products. I've worked with these systems over the last ten years. The Leica GPS system has proven to be intuitive and simple to use. "It's very different from the Topcon or Trimble," explains Adrian. "But once you learn how to use it, it's very easy." Having this kind of top-of-the-tree gear is something Adrian feels plays a big role in offering a great service and attracting clients. "It is important. Supervisors and superintendents ask you what gear you have - especially if they don't know you," he explains. "They don't want just a digger or just a breaker – they want a good one that can get the job done and get it done as quick as possible – without the downtime. There's cheaper attachments and cheaper diggers out there, but you get what you pay for at the end of the day."
RAF Civil is currently involved in some major innercity projects, including stage two of the Plenty Road project and the Metro Tunnel. They even lend their expertise to some more unusual jobs. "We do a lot with roadworks and rail, but we've also been on two windfarms now. One of them was 117 turbines! We're just finishing off 17 turbines up in Seymour as well."
These windfarm projects have seen Adrian's team tackle a broad range of jobs "We do everything from drainage, swale drains, tidy up work, rehabilitation and rock beaching work."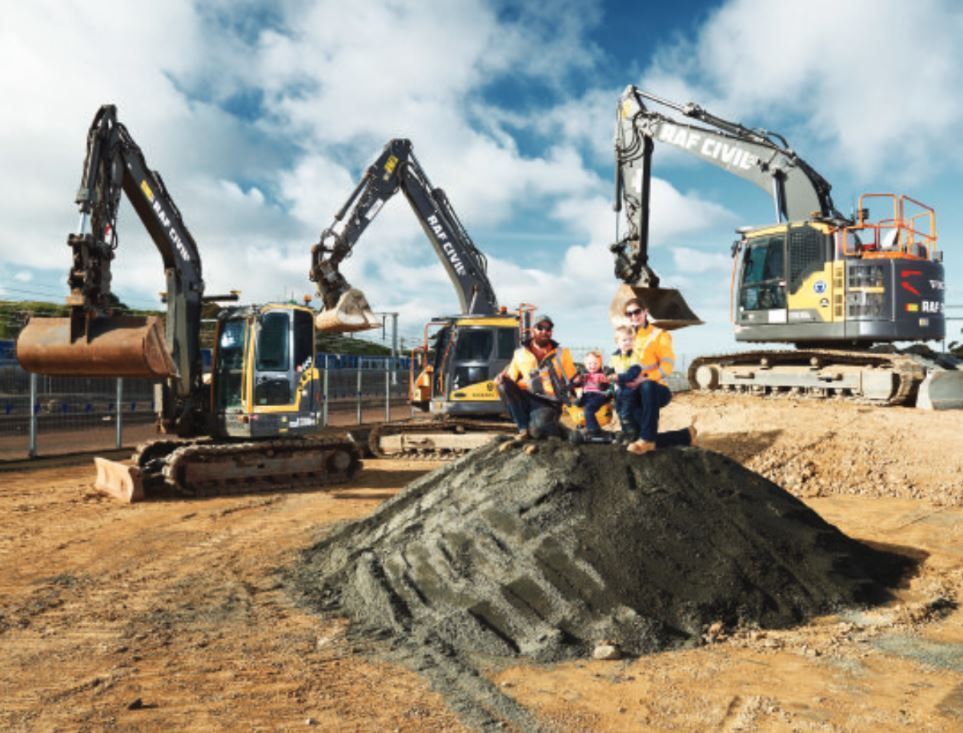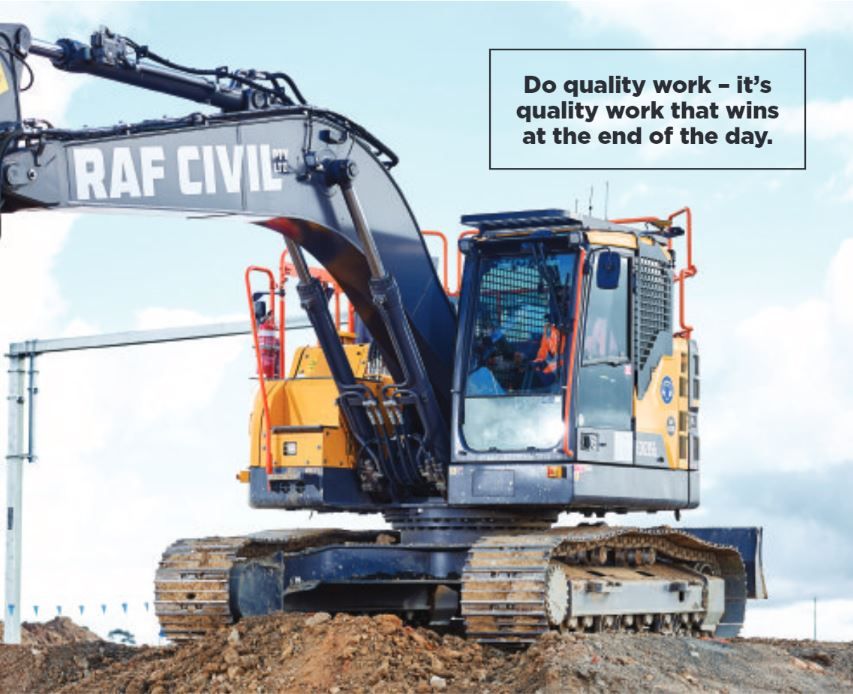 Drainage comes up a few times during the chat and I find myself wondering, aloud, why it is that you find so few non-Irish drainage specialists. Adrian laughs, "Ah, you get so much water in Ireland you figure out how to get it moving. It's a big thing in Ireland, making water move, because it rains so much. That said, of course, it's not just the Irish – I do have an Australian who does a fair bit of pipe laying for me."
Having gone from a single machine to six in just two years, are there plans to double the fleet by the four-year mark? "Nah, we're not looking to be a massive company," laughs Adrian. "We'll probably get a few more machines and just keep doing what we're doing. Trying to break out into more contractor drainage and conduit works and just try to grow the business slowly."
Anyone in business knows that people buy people, something which Adrian has seen play out for them. "We're trying to keep a good crew of good workers – handpicked. People that we know, so when we send them to a job site, we're sure we've got the right person."
"Customers will ring up looking for a specific operator to work on their job," Adrian continues. "It happens a bit. I have boys that have been in the industry same length as me or longer and they've also got their own contacts. When a project finds out who they're working for, they ring up looking for the person they need for the job."
In fact, earthmoving has become a way of life for the whole Forde family, with the couple's two small children now along for the ride. "The kids love it. The little boy – he's two-and-a-half – any chance he gets, he wants to be out in the yard – seeing the diggers and have a play in them. And the little girl – she loves them, too." Annie (just 12 months) and Lachlan certainly have the ultimate toys sitting in their backyard. "Lachlan loves getting on the 2-tonner and trying to dig a hole. They've also got their own toy ones in the sandpit – dumpers and diggers."
A growing business and busy family life have Adrian's other passion - a Suzuki 600 Supersport - gathering dust in his garage. "I used to do a lot of motor racing," says Adrian. "I haven't ridden in 2 years – not since starting the business. I hope to get back into it."
Having competed at the Victorian state level, the couple have managed to stay involved in the motorbike racing scene by having a sponsored rider still out on the circuit. "We'll see if we can get the rider back on the bike this year," Adrian shares. "Everything's been turned upside down with COVD19... but it'll get back up and running."
Any advice for a newbie trying to break into the industry? "Ah - sometimes it's easier to be an employee than an employer – all the hassles," laughs Adrian. "The main thing is to keep the customer happy. Do quality work – it's quality work that wins at the end of the day. That's what we pride ourselves on: doing quality work, finishing things and having a friendly team."
"When plant operators used to come and do stuff on the farm, we'd sit with them every day. The guy that owned it started giving me a chance… by fourteen I was on them nearly all the time."
With high quality machines in his fleet, it makes sense that Adrian has chosen similarly top-notch accessories and attachments to go with them. "They don't want just a digger or just a breaker – they want a good one that can get the job done and get it done as quick as possible
So far, having top people and top gear is a strategy that is paying off, with RAF Civil winning most business through word of mouth and repeat business. "Yeah, people we've worked with in the past – that's how I've gotten everything so far. That and just word of mouth."
Adrian certainly feels he found the right person to be his partner in life and business. "Rhiannon is my backbone, she's in charge of all the behind the scenes side of the business doing the admin work. She's helped me through all the tough times that we've had. We wouldn't be here today without her."
Fortunately, the pandemic hasn't slowed things down too much for RAF Civil. "We weren't as busy in March, but now we're as busy as ever – if not busier. And there's plenty of work coming up," shares Adrian.
Do quality work – it's quality work that wins at the end of the day.
Related Products